About
Introducing Implantology Courses on *Fresh Human Cadavers with Ritter and VESTA. We're setting a new standard for education excellence so check out the syllabuse in this link.
* 3 Day Course (9-11 November 2018) 18 CE credits / 18 CPD Hours credits
* Venue – Medipol University Anatomy Lab, Istanbul
* 5 Star Hotel x 4 nights: Istanbul Marriott Hotel Sisli*
* Separate Advance & Beginners courses
* Payment via Credit Card or wire transfer
* Course Language English
* Breakfast included
* Lunch included
* Course price 1,997 USD
*Course is in RISK of being SOLD OUT!
*Hotel subject to change based upon availability.
REGISTRATION PROCESS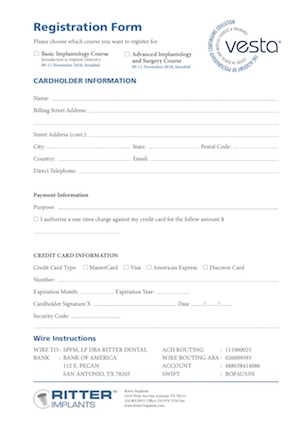 To be registered to the course, please download & print out the Registration Form, fill it in using blue or black ink and CAPITAL LETTERS. Then send the completed registration form to
Leon.Beaulieu@ritterimplants.com
or fax to +1-210-805-0236
You can make the payment via credit card or wire transfer.
For more informations, please contact
Mr. Leon Beaulieu
Vice President, International Ritter Implants
www.RitterImpants.com
+14157286601
Available @: FaceTime, Line, Messenger, Viber, WhatsApp.
SURGICAL TOPICS
Theoretical Session
• What should implant treatment offer to patients and dentist? What does!
• Osseointegration, clinical concepts, importance of the quality and volume of the bone
• Implant systems overview, surface characteristics, body structure, and abutment-implant connection.
• Implant soft tissue relationship, biological width, the micro-interval in the abutment-implant connection.
• Assessment of the requirements of the individual who is candidate for implant treatment, examination of the conditions in the oral cavity, preparation of the oral cavity for implant treatment.
• Surgical anatomy in the maxilla and mandible with respect to implantology
• General health-wise examination of patients, indications and contraindications
• Case analysis, determination of treatment strategy and aim.
• Surgical process- preparation of the operating room, preparation of the patient, asepsis and antisepsis
• Anesthesia and incision
• Placing implants
• Suture techniques (simple & continuous)
• Single stage and double-stage implant surgery, suturing process
• Flap design, incision, flap manipulation, standard osteotomy and implant placement
• Surgical complications, and medications used in implant surgery
• Postoperative care, protection of the implant surroundings health and biological complications
Surgical Practice on Fresh Human Cadavers
• Dissection of anatomical danger zones: Lingual+inf. alveolar+mental+infraorbicular nerve
• Implant palcement on lower jaw (mandible)
• Placing graft and membrane around the inserted implants
• Suture techniques
PROSTHETIC TOPICS
Theoretical Session
• Prosthetic treatments and implant dentistry
• Prosthetic planning: First steps
• Biomechanics in Implant Dentistry
• Therapeutic biomechanics
• Planning principles of implant-supported prosthesis
• Implant positioning: From prosthetic planning to surgery
• Radiological evaluation
• How do I determine adequate number of implants for implant-supported prosthesis?
• Screw retained vs cemented prothesis
• Construction of implant supported overdenture: General information, indication-contraindication, bar, knob, telescope, and locator
• Can the patient's old prosthesis be used? New prosthesis construction phases; impression, try -on, finishing, delivery, occlusion
• Construction of bridge over implant, bridge design, support (tooth or implant) selection, material and abutment selection
• Bridge construction phases: impression, try-on, occlusion, finishing, and delivery. Screw connection - cementation
• Impression and transfer systems, open spoon and closed spoon impression techniques
• Strategies for basic cases in the clinic
• Case analysis
Prosthetic Practice on Plastic Jaw Models
• Open tray impression on plastic jaw models for implant-supported overdenture prosthesis
• Placing implant analogs.